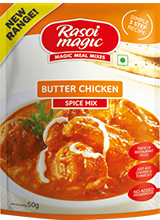 Back to the Indian food store for this spice packet.
This one here uses tomatoes and is a so called mild.
I wound up skipping the very last step here in adding the extra 1.5 cups of water as my pan cooking the food was very full at this point of time.
I am going to say that this was a mild flavor for sure.
I say I did taste something in a spice type flavor at the end.
I give this spice packet a medium sized thumbs up as my previous butter chicken spice packet that needed milk was better.