Saw this, couldn't resist posting it. Looks like something most kids would really enjoy.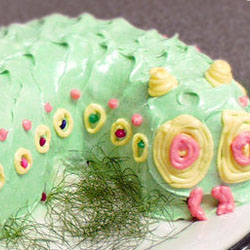 CATERPILLAR CAKE
This is a great cake to do after a unit on bugs, wildlife, etc. Have the kids help decorate it! Use licorice whips for antennas, or gumdrops. Spread icing around caterpillar and sprinkle green tinted coconut for grass. Use any flavor cake mix or any Bundt cake recipe." Original recipe yield: 1 Bundt Pan
Ingredients:
1 (18.25 oz) package yellow cake mix
1 (16 oz) package vanilla or colored frosting
˝ cup flaked coconut
DIRECTIONS:
1. Prepare cake according to package instructions and bake in a Bundt pan. Cool and invert onto cutting board.
2. Cut a piece of cardboard large enough to accommodate two punt pans. Cover with aluminum foil.
3. Carefully cut the cake in half and place on cardboard in an "S" shape.
4. Decorate with colored icing, candies, etc.