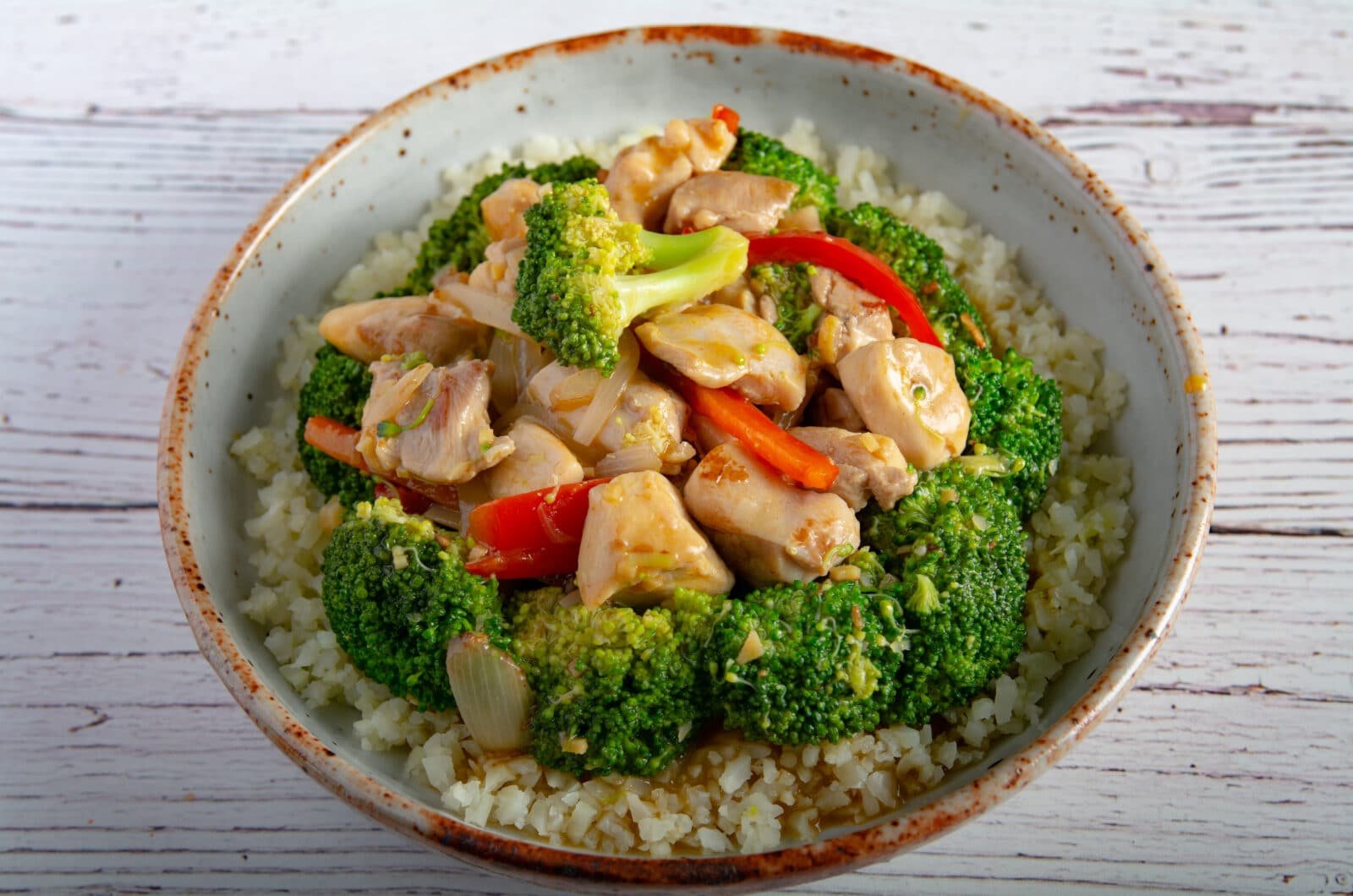 This is a healthier (diabetic friendly) version of chicken and broccoli.
Ingredients
Sauce
1 Cup Low Sodium Vegetable broth
1 teaspoon Soy sauce
1/2 teaspoon Sesame oil Roasted
1/4 teaspoon White pepper
1/4 teaspoon Thick it up 1/4 to 1/3 third teaspoon
Protein
8 oz Chicken
Vegetables
2 Cups Broccoli Blanched
1/3 Cup Bell Pepper
1/3 Cup Onion
1 Tablespoon Garlic
1 Tablespoon Ginger
Other
1 Tablespoon Peanut oil
Instructions
Blanch the broccoli
Bring a large pot of water to boil
Prepare the broccoli by cutting the florets from the stem. Cut any large florets in half. They should be bite sized pieces.
Place a large bowl of ice water close to the boiling pot of water
Add the florets to rapidly boiling water and cook for two to three minutes.
Using a slotted spoon remove from the boiling water and place into the ice water.
After they have cooled place into a colander to drain.
Make the sauce
To one cup of vegetable broth add 1 teaspoon soy sauce, 1/2 teaspoon sesame oil, 1/4 teaspoon white pepper and 1/4 teaspoon Thick it up
Give it a good stir
Set close to your stove
Prepared sauce in a measuring cup with a spoon
Cook
On medium high heat add 1 Tablespoon of peanut oil, 1 Tablespoon garlic and 1 Tablespoon ginger to a pan.
When you can smell ginger and garli add the onion and bell pepper. Stir around then push everything to the side.
To the middle of the pan add the chicken and spread the chicken out.
Let it sit for one minute or so then flip it over and let it side to get some color.
Then start to stir things around until the outside of the chicken no longer looks raw.
When the outside of the chicken no longer looks raw raise the heat to high and add the stir fry sauce. Bring to a boil and cook uncovered for three minutes.
Add the broccoli and heat all the way thru.
It's now ready to serve
For more details
https://jamesstrange.com/healthy-chi...ir-fry-recipe/