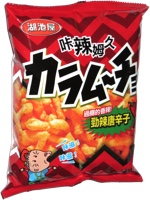 back to the Big Asian food store for this item.
I am going to say these corn curls had a solid crunch to them.
this small bag for me was a two serving bag.
The first serving was not as hot for me as the second one was.
This one can certainly get you to a nose blow.
This one I give a big thumbs up.