Well this is supposed to be a new item from the company...
Not to be confused with the previously released Lays jalapeno Cheddar potato chips: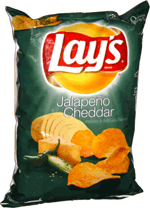 The chips were certainly cheesy in flavor.
They did have some Jalapeno heat to them.
Not a super hot chip though.
I will give this chip big thumbs up although it may not be that much from the previously released chip.