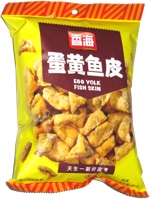 Back to the Big Asian food store for this item.
One two serving bag was 3 bucks.
The pieces came in various sizes and looked like breaded fish skin.
This was a soft item to eat.
I could not taste much hear at all. No Egg yolk taste imo.
Some fishy after taste though, but mild.
Came out better than what I was expecting here.
A medium sized thumbs up from me here.